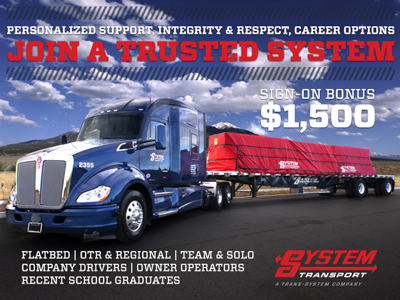 Drivers - Solo, Teams, Recent School Graduates, and Owner Operators Wanted!

Regional, OTR and Dedicated Flatbed Positions Available
SYSTEM TRANSPORT, INC. wouldn't be here today if it wasn't for our invaluable drivers. Our entire team works closely to provide high quality service to our customers. We expect a lot from our drivers, and in return we treat them with the utmost respect and offer them industry leading pay, benefits, home time, and beautifully spec'd equipment to ensure your success.
PAY STARTS DAY 1 OF ORIENTATION!!!

In addition to top pay and a full benefit package (Medical, Dental, Vision, 401k), System Transport offers:


Orientation Pay

Sign-On Bonus - $1,500 Solo / $3,000 Teams

Safety Bonus - $300 Per Quarter

Vacation Pay - Up to 6 Weeks of Paid Vacation

Referral Bonus - $500

Tuition Reiumbursement

Weekly Pay

Training Pay - $15,000+ in additional pay

Tarp Pay

Stop Pay

Canadian Border Crossing Pay

And MUCH MORE!!!

Local - Regional - Dedicated - OTR:


Portland, OR / Longview, WA Dedicated Flatbed

Flatbed OTR

California Regional

Phoenix Regional

Colorado Regional

Texas Regional

Kansas City Regional

Midwest Regional

Maxi 8-Axle Division

Northwest Regional

NEW Glass Hauling Division

Currently we are hiring CDL Class A professional drivers and recent student graduates.
No flatbed experience needed
- Pay starts on Day 1 of orientation!
Apply Online Today and/or call us at
800-762-3776
www.systemtrans.com
Veterans encouraged to apply
Training Available!
SYSTEM TRANSPORT, INC. prides itself on its family-oriented culture and we pay attention to the unique needs of our drivers to ensure a successful career. We offer dedicated, regional, and over-the-road opportunities, beautifully spec'd Peterbilt and Kenworth tractors, a leading pay and benefit package, and most of all a
career
. Complete your application and join our team of professional drivers today.