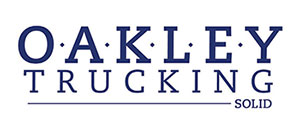 Owner Operators - Regional and OTR Hopper Bottoms!
Oakley's Hopper jobs are perfect for Owner Operators who prefer low-strain work. PLUS no up-front investment in special equipment. Call us today, and find out how Oakley drivers earned more than $2 Million in contract-performance bonuses in 2016 alone!

APPLY ONLINE OR CALL (877) 572-0493 TODAY!
BENEFITS:
100% Owner Operator

Excellent pay & steady work year round

Earn top pay per mile on all miles loaded or empty (includes 100% of fuel surcharge)

Home weekends

Teams and Solos

Regional and OTR

Free base plates and permits. With no charge-back.

We supply and maintain the trailers

Fuel surcharge paid Loaded and Empty

Financially stable. Never a single layoff due to economic circumstances.

Anniversary bonus: 5¢ per mile. Over $2 million paid in 2016 alone.

Family-owned, family-friendly

A consistently solid safety record and reputation


REQUIREMENTS:
Tractor weight limit of 19,000 pounds (Hopper trucks are required to carry minimum loads of 50,000 pounds-for Total Weight maximum of 80,000 pounds).

APPLY ONLINE OR CALL (877) 572-0493 TODAY!