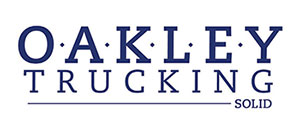 Owner Operators - Great Pneumatics Jobs
Oakley's Pneumatics jobs are perfect for Owner Operators who enjoy variety in their work. Looking for a company focused on your success? Call today, and find out how Oakley drivers earned more than $2 Million in contract-performance bonuses in 2016 alone!

APPLY ONLINE OR CALL (877) 585-7558 TODAY!
BENEFITS:
100% Owner Operator

Excellent pay & steady work year round

Earn top pay per mile on all miles loaded or empty (includes 100% of fuel surcharge)

Teams and solos

Free base plates and permits. With no charge-back.

We supply and maintain the trailers

Fuel surcharge paid Loaded and Empty

Financially stable. Never a single layoff due to economic circumstances.

Anniversary bonus: 5¢ per mile. Over $2 Million paid in 2016 alone.

Family-owned, family-friendly

A consistently solid safety record and reputation


REQUIREMENTS:
Straight Pneumatic hauling requires investment in a blower-provided by Oakley, and installed at our North Little Rock shop during Orientation.

APPLY ONLINE OR CALL (877) 585-7558 TODAY!