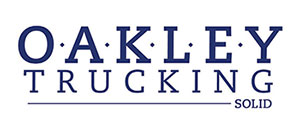 Owner Operators - End Dumps
Oakley's Owner Operators love End Dump freight's fast loading and unloading. AND the variety of challenges their work offers them every day. Call us today, and find out how Oakley drivers earned more than $2 Million in contract-performance bonuses in 2016 alone!

APPLY ONLINE OR CALL (877) 709-3852 TODAY!
BENEFITS:
100% Owner Operator

Excellent pay & steady work year round

Earn top pay per mile on all miles loaded or empty (includes 100% of fuel surcharge)

Home weekends

Teams and solos

Regional and OTR

Free base plates and permits. With no charge-back.

We supply and maintain the trailers

Fuel surcharge paid Loaded and Empty

Financially stable. Never a single layoff due to economic circumstances.

Anniversary bonus: 5¢ per mile. Over $2 Million paid in 2016 alone.

Family-owned, family-friendly

A consistently solid safety record and reputation

REQUIREMENTS:
End Dump hauling requires investment in a wet kit-provided by Oakley, and installed at our North Little Rock shop during Orientation.

APPLY ONLINE OR CALL (877) 709-3852 TODAY!