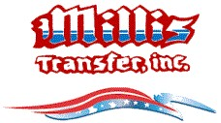 Millis Transfer, Inc. epitomizes the American dream, Family owned and operated since 1936.
Highest Pay Rates Home Weekly! 70mph Governed Trucks!
Millis just raised driver pay AGAIN putting our pay package
in the top 10% of all carriers.
Make Your Mark with Millis Transfer!
Get full details by contacting us today!
888-558-5476Certified Top-Pay Carrier. Numerous Award Winner. Over 80 Years Experience. 100% Driver Focused.
Millis Transfer isn't the typical trucking company. Ask any of our drivers and you'll quickly understand that we listen to, invest in, and support our fleet in every way possible. Our well-rounded and robust pay and benefits packages support a good living both on and off the road.
Earn $60k/yr or More Home Weekly!
NEW in 2017: PAY RAISE for ALL DRIVERS!
Offering one of the best pay packages out there!
Average Millis driver earned $60,000/year in 2016
Top Rates & Miles Home Weekly!
Get home Weekly/Frequently in most cases!
Trucks governed at 70mph when driver meets safety requirements
Run excellent miles week over week
Best Pay and Benefits Pkg Out There!
Top-of-the-line equipment with DirecTV paid by Millis
Sirius Satellite Radio available in all trucks
Earn 3 weeks paid vacation
Detention pay after 90 minutes of on-time deliveries
401(k) with company match
Thorough benefits including health, dental, vision, life, disability
With so many benefits, bonuses and extras to offer, call Millis Transfer today for more information!

GET STARTED NOW - It's Easy!!
Apply Online below to send us your basic information or
Call now to speak to our recruiting team for more details!
888-558-5476